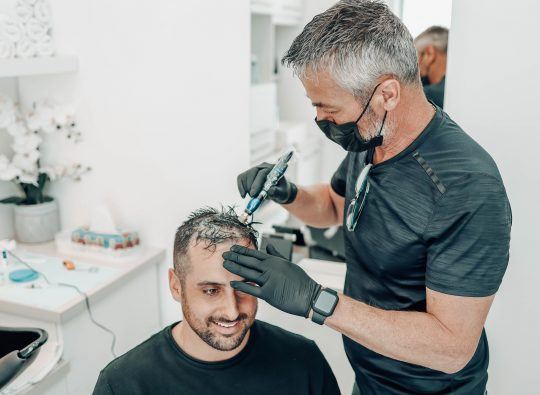 For both men and women!
New at Capilia, mesotherapy is a must.
Who here has never been affected by hair loss? Affecting both men and women, hair loss in any form is much more common than we think. Whether it is hereditary baldness, androgenic alopecia, hormonal hair loss in women or other, the causes are numerous, and few people escape. Fortunately, the solution exists at Capilia. Mesotherapy, a new treatment offered by us, could help your hair loss condition. Here is a quick overview.
Mesotherapy: a proven state-of-the-art technology
Based on micro-perforation of the skin, hair mesotherapy consists of transporting its cocktail of vitamins, proteins and minerals to the hair follicle through microscopic channels. This proven innovation:
– Boosts follicle stem cells
– Hydrates and nourishes the hair follicle
– Reduces hair loss and promotes regrowth
– Stimulates the scalp and the bulb
– Slows hair loss and increases hair density
How does it work?
The Vital HR solution used in mesotherapy, which contains a high proportion of active ingredients scientifically recognized as inhibitors of the enzyme causing baldness, is applied to the scalp with the InnoPen and its 13 micro-needles. When the hair follicles are treated, there is a rapid increase in blood flow and better circulation. This results in a decrease in sebum, the main agent responsible for clogging the hair follicles, as well as a decrease in the level of mites that cause hair loss. And since mesotherapy encapsulates the active ingredients of the Vital HR solution inside the hair follicle, the hair becomes stronger, thicker and healthier.
The result
After only one week, there was a significant decrease in hair loss. After 8 treatments, all subjects treated with mesotherapy experienced an increase in hair growth and an average 80% reduction in hair loss. At 12 weeks of the study, there was a 62% reduction in sebum production and a 32% decrease in mites in the follicle.
Capilia : the medical solution to your hair loss
This new technique is now available at Capilia. We invite you to schedule a free consultation to determine if this option is right for you. This way, you are assured of satisfactory results and complete care by experts in the field.
See you soon!