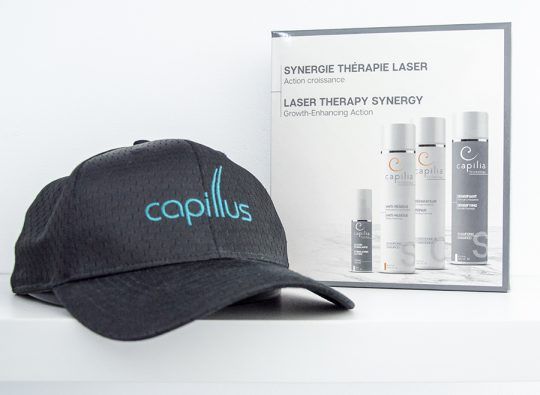 Solutions for all budget!
At Capilia, several services are offered to maintain the hair health of our clients. Before thinking about surgery, the core of our work fits in one sentence: stimulating hair regrowth. There are plenty of resources to do this, but here are two that have impressive long-term results.
Laser – A bright ally
Laser therapy is specifically designed to prevent and counter hair loss, achieve fuller hair, and even improve the results of PRP treatment or hair transplantation. The low intensity laser act to stimulate the blood circulation, therefore nourishing the hair follicles and energizing their cells. The results are very satisfactory, moreover, independent clinical studies show it: the participants observed a 51% increase in hair density.
Laser therapy is a safe and effective solution with no known side effects and approved by Health Canada.
Vitamin regrowth
Specifically formulated with nutrients that have the property of promoting denser and stronger hair, Vitalia supplements represent an effective way to improve hair density. A glance at the list of ingredients is enough to be convinced of the effectiveness of these supplements:
BIOTIN – Prevents hair loss
HORSETAIL – Stimulates blood circulation
CYSTEINE – Boost hair strenght
METHIONNIE – Produce new protein tissues
ZINC – Protect hair follicles
B VITAMIN – Provide the nutrients the hair needs to grow
The great thing about supplements is that you can take them at home and easily include them in your healthy lifestyle.
These solutions provide optimal results when combined with the right care and in-center follow-up. To book an appointment for a free consultation with a Capilia expert, simply click here.