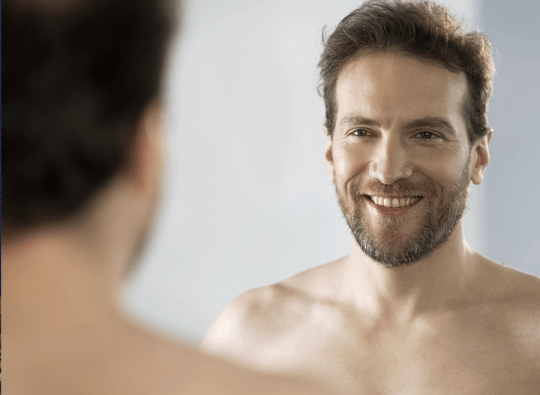 Whether it is hair loss or hair thinning, the situation can completely change your appearance and affect your daily life and self-esteem. Hair loss can occur for several reasons and it is important to know and understand them to prevent it with the appropriate care and treatments. Below is an overview of the treatments offered to you by Capilia to fight back hair loss.
PRP (Platelet Rich Plasma) treatment is a medical procedure used to prevent hair loss in both women and men. It is one of the most advanced prevention treatment. The process is simple and a Capilia nurse will perform a blood test to make sure the procedure goes smoothly. Plasma, which is rich in growth factors, is extracted from the blood using a centrifuge and will then be injected into the scalp with a fine needle. This PRP process helps reinforce and revitalize hair and fight back hair loss naturally. It also stimulates new hair growth and, furthermore, provides silky, healthier hair.
Laser therapy is a treatment designed to prevent and counter hair loss. Low intensity lasers stimulate the blood circulation and nourish the hair follicles by energizing the cells. The result? Only six minutes of daily usage helps the hair to grow back. For more information on how this therapy works, read our latest blog.
Several trichology treatments are offered at different Capilia centers in North America to help with all sorts of hair loss cases. Three treatments are particularly effective to prevent hair loss, while all of them will help the scalp.
The male baldness treatment is formulated to slow down the process of androgenic hair loss in men as soon as the first signs appear thanks to ingredients with anti-DHT properties. This 120-minute treatment stimulates hair growth and improves hair density.
The male form seborrheic alopecia treatment for women can revert female hair loss and improve hair growth and density. It is used for cases of scalps with an oily tendency and hair loss issues at the temples. This 120-minute treatment cleanses the sebum accumulated on the scalp and stimulates the follicles to help regrowth.
Diffuse alopecia treatment makes it possible to control alopecia in women once the first signs appear since this phenomenon is difficult to reverse. The 120-minute treatment limits hair loss and protects hair density by clearing the scalp of all deposits and residues that harm hair growth. In doing so, hair regrowth is stimulated to optimize the thickness of the hair.
Vitalia supplements are formulated and based on nutrients that have the property of stimulating hair to be thicker and stronger. Part of an accessible approach to hair care, they also help prevent hair loss.
In conclusion, if your hair loss seems more important than usual, we strongly recommend consulting a Capilia trichology expert to analyze and identify the cause of your condition. They will direct you to the best treatments and solutions for you. Also, several trichology treatments are specially designed for home usage.