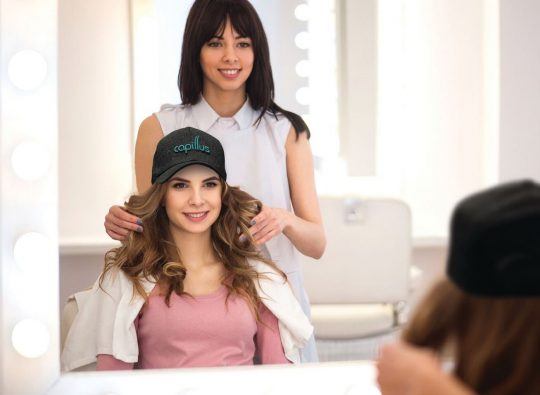 There's an ever-increasing number of laser treatments being offered on the market today. Whether they're marketed for health or aesthetic uses, laser treatments are now among the goods and services we can buy. We are still only scratching the surface of how lasers are effective in all sorts of treatments, but their effectiveness has been proven time and again when it comes to treating our hair and scalp.
The role of the scalp
The muscles of the scalp, unlike most muscles, are rather passive. They protect the cranial envelope from external aggressions. The blood circulation is therefore slower than elsewhere on the body and can be further reduced by several different factors such as old age, hormones or an unhealthy lifestyle.
This blood circulation is essential to a good capillary health since the blood provides our hair follicles with the necessary nutrients and a healthy blood circulation is crucial for hair growth and density. Likewise, circulation problems lead to negative effects that we want to try to minimize.
Why try laser therapy?
The treatment of Capillus laser therapy is based on the biological effects of the photo stimulation of living organisms. The low density laser stimulates the blood circulation and cell division of the scalp, therefore supplying an optimal number of essential nutrients to the hair follicles.
The best part? Numerous clinical trials have shown absolutely no side effects from the use of this laser therapy.
Which Capillus to use?
The Capillus treatment makes laser therapy as easy and accessible as possible for you! It allows you to increase your hair density in just 6 minutes a day, in the comfort of your home while leaving your hands free.
Independent clinical studies have shown that the Capillus laser therapy system has helped reduce the loss of hair for 100% of their active participants. They have also proven that the treatment provided an average increase in the number of hairs by 51%. That's quite a lot!
Solutions for you
Several Capillus laser therapy options are available to you, regardless of your situation. Don't hesitate to contact us to make an appointment and find out which therapy is the best one for you.
1. Capillus 82
Capillus 82 is the entry-level model for Capillus laser therapy. With 82 diode lasers, it reduces hair loss in 3 to 6 months, with optimal results after 12 months of use at a rate of 6 minutes per day.
2. Capillus 202
The Capillus 202 helmet counts 202 diode lasers and reduces hair loss in 3 to 6 months, with optimal results after 6 to 8 months.
3. Capillus 272
The Capillus 272, the highest-end helmet, counts 272 diode lasers and achieves the fastest results. It reduces hair loss in 3 months, with optimal results achieved after 4 to 5 months.
In order to obtain the best possible results, using the Synergy Laser Therapy Kit is recommended. The Capilia thricology kit contains their anti-residue shampoo, densifying shampoo, repairing conditioner as well as their stimulating action serum specifically formulated with 100% natural active ingredients in order to purify the scalp while stimulating hair follicles.
In conclusion, if your hair loss seems more severe than usual, we strongly recommend consulting a Capilia trichology expert to analyze and identify the cause of your condition. They will recommend the best treatments and solutions for you, including laser treatments!